Sliding Door System
Smooth Roller Gliding
Large 41mm diameter round-tyred rollers, combined with a strong metal adjustment bracket, ensure quiet operation and more roller adjustment than is ever likely to be needed. Open design and construction enables easy cleaning. (Inside of door shown above).
Features
Round, modern appearance
Large 41mm diameter rollers and brackets for quiet operation and ease of adjustment
Design-registered anti-jump device prevents door panels from jumping off the track
Matching infill buffers on grip stile
Continuous finger grip on all panels
Foot-friendly, easy-to-clean track
10-year guarantee
Recipient of the coveted Australian Design Award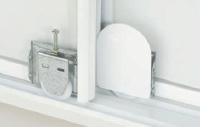 Whisper Quiet Roller Operation
Large 41mm diameter roller housed in a strong galvanised metal adjustment bracket, ensures ample roller adjustment and whisper quiet operation at all times. Open design and construction enables easy cleaning, reducing the accumulation of dust.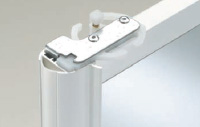 Modern Contoured Cushioning
Matching infill buffer with grip style eliminates metal to metal contact and gives our sliding doors a smooth, modern, contoured appearance.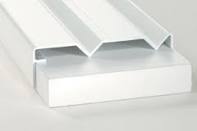 Low Profile Bottom Track
Our sliding doors feature a foot friendly unobtrusive bottom track, which is easy to clean. The smart "V" groove design virtually eliminates roller side-play producing a smooth sliding operation.
Sliding Doors at Exceptional Value
Indulge your imagination and create the absolute premium wardrobe design at a surprisingly affordable price.